My multi-award winning garden, Driftwood, is located by the sea in Sussex, on the coast between Brighton and Eastbourne. Over the years it has seen 14500 visitors and raised £76000 for charity. Last year it featured on BBC Gardener's World and was a finalist in Gardeners' World Magazine, Garden of the Year Competition too. Every year it is a challenge to create a variety of garden rooms that looks a little different, so the many returning visitors see something new and fresh. In order to create a flexible and fairly easy to change garden, I've always used terracotta containers of all sizes. I've probably got a collection of over 150 now. I've never been keen on plastic ones, they just don't look at home in the garden, whatever the colour. OK I hear you say, the advantage is that they are not as heavy as the real thing, but there really has never been any competition for me, despite the weight! Now roll on the years, I'm 64 this month and I've been forced to reconsider how I create a different look in the garden this year. I've been using a trolley in recently to move containers around , but even that has started to get more difficult, especially in a garden on a slope with several steps to negotiate.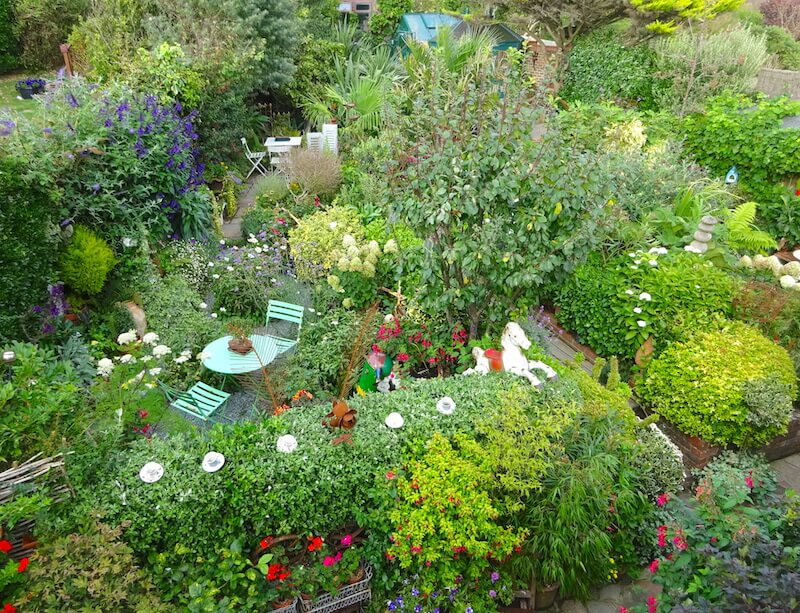 So, this year I decided I needed to try and ease the burden, by investigating some lightweight pots that still looked like terracotta. The obvious place to check on line was Primrose, as they seem to stock everything anyone could need for the garden, and I have purchased quite a few things from them over the years. 
Two areas of the garden that rely very heavily on the use of containers, are these central steps in the garden and the patio area at the back of the house, which resembles a wall of plants on either side, like corridor of plants!
On investigation, I found what looked like the perfect solution! The fibre clay containers seemed to fit the bill perfectly for the steps, as I needed to find ones that were the right size to sit perfectly on the brick steps. They look absolutely at home, even before they have been filled with annuals for the summer season. These containers are all 30 cm tall and will work well, creating the waterfall effect I need to achieve. Look at last years results to see what I aim to create.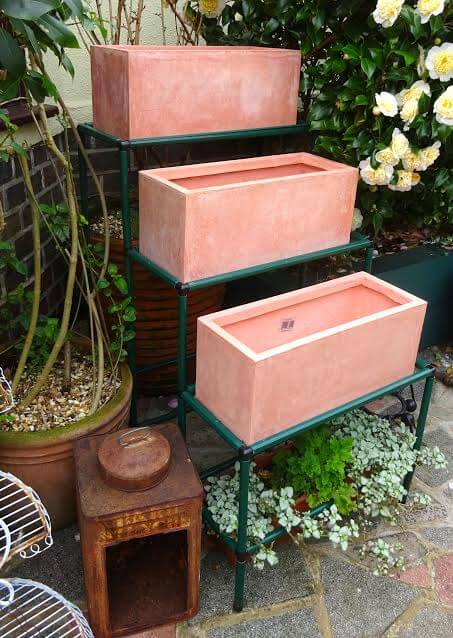 On the other hand, at the back of the house, one of the features I had within the wall of flowers was an old Victorian wooden cart which sat under a large potted camellia. On moving it to tidy up last month, it disintegrated and I'm left with the 2 axles and a side panel. I therefore needed to fill a large space, so two fibre clay containers, the tall one 64 cm tall and the lower one 37 cm tall. They look amazing in the space already . Granted, these are so big they will probably never be moved but all the others are perfect for ease of movement each year as needed. I also needed 3 troughs to sit on tiered shelving as part of this area of the garden. The 3 from Primrose fitted perfectly, which will also make life a lot easier. Just imagine how they will look when we open the garden gate to our first visitors on the 11th June. The garden is open 14 times for public days this year but also by arrangement from 1st June until 3rd September. If you live around Sussex, or are planning holidaying in the area this year, why not come and visit the garden yourselves. Full details can be found at www.driftwoodbysea.co.uk 
Look out for the next blog this Summer, so you can see what the containers look like when our visitors view them in the Summer.
-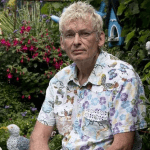 Geoff Stonebanks lives in Bishopstone, near Seaford in East Sussex and spends all his time gardening and fundraising for Macmillan Cancer Support. Using his multi award-winning garden, Driftwood, he has raised over £76,000 for various charities in 7 years, £40,000 of that for Macmillan. The garden, which first opened to the public in 2009 has featured on BBC2 Gardeners' World, Good Morning Britain and in many national and local media publications. In his spare time, Geoff is also the National Garden Scheme's Social Media & Publicity Chair as well as an Assistant County Organiser & Publicity Officer in East & Mid Sussex.