As the autumn approaches, and summer's rays (or rain in this summer's case) start to fade, thoughts can turn to the harvest. Whether you're an urban harvester seeking out the best picked fruit in your local market or even supermarket aisle, driving down to a local orchard for a spot of apple picking, or gathering in your very own harvest from apple trees in your garden, look no further than Primrose's guide to apple harvesting to help you get only ripe, unspoilt fruit in your larder.
[caption id="attachment_7947" align="aligncenter" width="365"]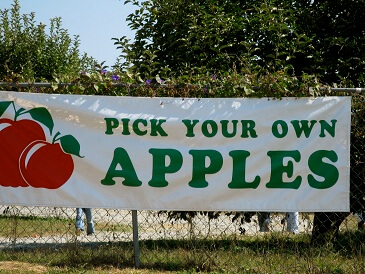 A Pick Your Own Orchard[/caption]
One of the perplexing things about apple harvesting is the dazzling variety of types of apple available to harvest, and the different seasons in which the apples can be harvested. One of the most popular supermarket varieties, for example, the Gala apple, is harvestable from May to September. Whereas one of the most common non-commercial apples, Cox's Orange Pippin is generally harvestable from around mid-September. Producers tend to favour the Gala over the Cox because the latter does not tend to keep well after harvesting - but it is still grown commercially to brew cider.
So it is important to consider, before your visit to a pick-your-own orchard, whether you are after apples to eat, apples to cook or apples to make a refreshing cider, and whether it is important that the apples keep for a long period. What you are going to use the apples for will influence the quality of apples you need.
Tips for visiting orchards:
Plan your visit! There is a great site at

http://www.pickyourownfarms.org.uk/

that showcases where the pick your own sites are in the UK near you.

Be clear on the varieties the orchard in question contains, and plan your visit when the variety you want is in season.

When it comes to picking, you will know the fruit is ripe when the starches are beginning to turn to sugar. However, it is probably not advisable to do a taste test on each apple you want to pick!

The colour of a ripe apple changes depending on the variety, so your best bet at a pick your own orchard is to ask the farmer which trees are ripe. He will be able to tell you what characteristics to look for in each variety and should have a record of how many weeks it was since the tree flowered.

Watch out for bruised apples. Even if you just want to press the fruit to make cider, bruises often indicate rot and despite the famous saying, one rotten apple really can spoil the whole batch!

Don't shake the tree! This can cause other apples to fall which may then spoil. Instead, pick the apples in a twisting motion to free them from the branches. This should be done gently, leaving the stem intact.

Place the fruit in the basket or container, do not throw them as this can cause them to bruise. A bruised apple rots easily, as it is the hard skin that ensures its longevity.
Harvesting apples at home.
If you're lucky enough to have an apple tree in your back garden, harvesting can be done at home. If you don't, why not? Primrose have a wide variety of apple trees available now for purchase for delivery in November, to ensure they are bedded down nicely in your garden in time for the spring.
Harvesting apples at home can be easier, as while not good etiquette at a pick your own orchard, shaking the tree is permissible on your own property. A good tactic is to place a sheet under the tree and then shake the tree onto the sheet, this will ensure only the ripe apples fall from the tree. However, many of the other apple picking tips above still apply. Follow this advice and you're sure to have a bumper crop of apples this autumn. Don't forget to check out our guides to apple storage and cider making for advice on what to do with your apples once you've harvested them.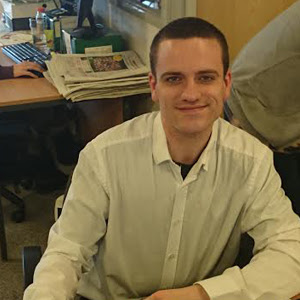 Charlie works in the
Primrose
marketing team, mainly in online marketing. When not writing for the Primrose Blog, Charlie likes nothing more than a good book and a cool cider. To see the rest of Charlie's posts,
click here.